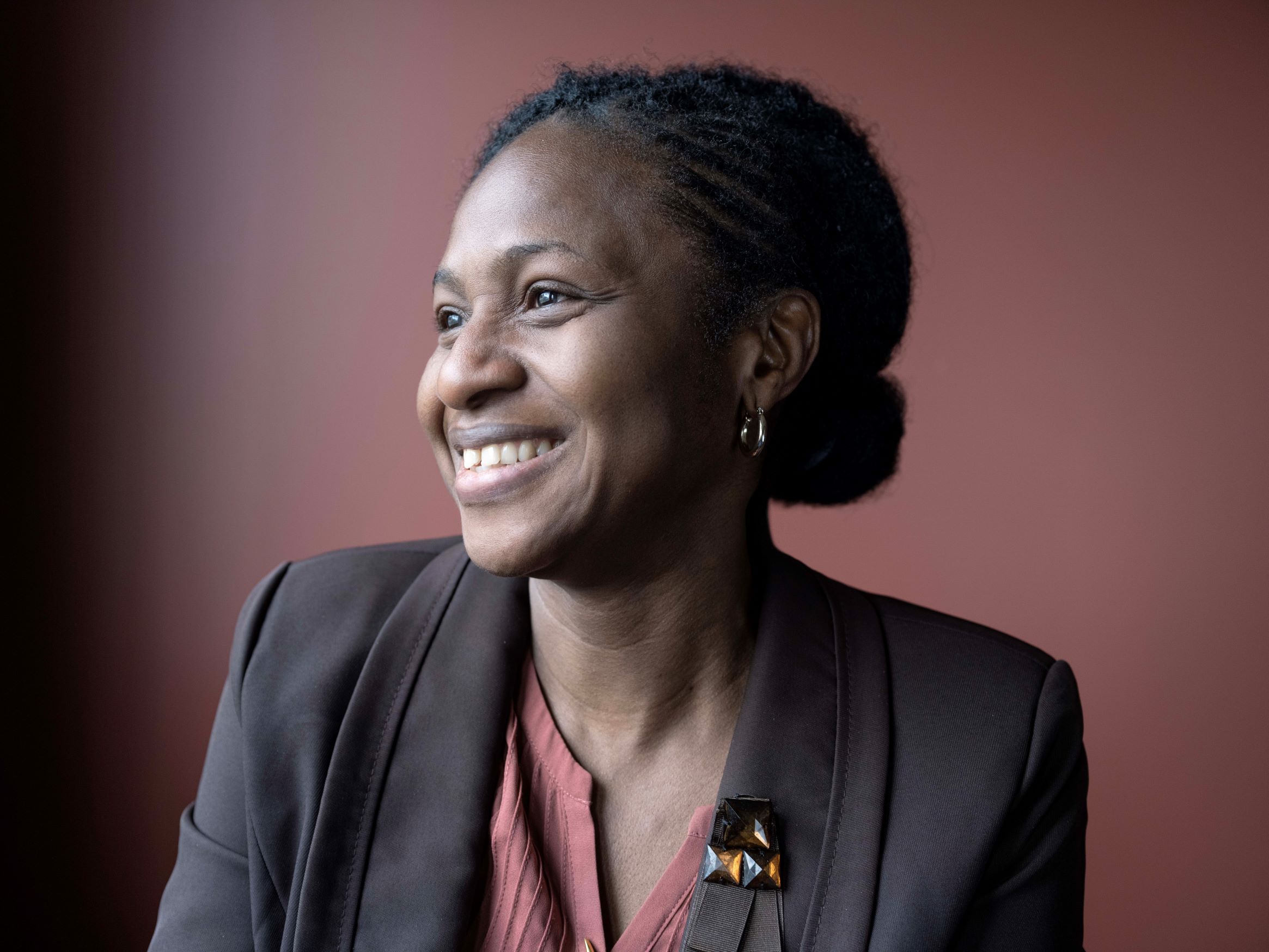 Oluwatoyin "Dorcas" Adeniyi

, PCP
Payroll Specialist, Franchise Management Incorporation, Woodstock, NB



Oluwatoyin "Dorcas" Adeniyi has found so much to love about Woodstock, New Brunswick, where she lives with her family. But when they moved from Nigeria – landing in the dead of winter—in Labrador, she wasn't so sure.  
"It was crazy cold!" Dorcas laughs, thinking back on her first days in Canada.  
Seeking slightly warmer pastures, they headed for New Brunswick where she now feels right at home. She loves the beauty of each season experienced there, and the proximity to the city of Fredericton.  
As a mom to three growing children, a boy aged 11,  and two girls, aged 15 and 18, Dorcas says she spends her weekends "major league cooking," and while it's a big job, it's a labour of love. Over the past few years, she has been growing her garden, tending to her tomatoes, peppers, peas and lettuce, to help meet the demands of her kitchen.   
Dorcas' payroll career started in Nigeria, where she worked with her state's government. When she moved to Labrador in 2015, she found that the differences between processing payroll in Nigeria and Canada were vast, but she still hoped to be able to continue her career in the field.   
She found work through contract opportunities and eventually secured a full-time accounting role with a long-term care facility — but her desire to return to payroll remained strong. In her accounting role, she would often get called on to support payroll-adjacent tasks, but due to the confidentiality requirements of processing payroll it wasn't something she was able to easily volunteer to help on to gain the experience to take on a dedicated role.  
The move from Labrador to New Brunswick gave her the push she needed to try something new. She seized the opportunity to register for PCP courses offered through New Brunswick Community College, and was excited to gain the knowledge necessary to jump back into a payroll role. Unfortunately, not long after, COVID hit and her studies had to move to an online environment. Nevertheless, she persevered and graduated in 2021.  
From there, Dorcas was unstoppable! She secured a payroll role at the Franchise Management Incorporation (FMI), where she currently works, responsible for processing payroll for over 1000 employees, and she loves it.  
Interestingly, Dorcas has noted so many differences between the work she is doing now and the work she did in Nigeria, but she feels that the elevated technology has really made payroll practices here much more efficient. For example, instead of tracking, processing, and recording payroll on a digital system, in Nigeria, everything was recorded by hand (on paper cards) for each employee. Suffice it to say, she much prefers the digital process.  
"Technology eases the burdens of the job and makes everything work faster for you," she says. Looking to the future, she feels it is essential for payroll professionals to keep up to date with the knowledge – because no matter how much changes, people will always need to be paid accurately and on time.  
You can't miss Dorcas' optimism and passion for her work. Despite the challenges she faced in pursuit of her payroll career after immigrating to Canada, she's so happy to have found her way back to the profession she loves. Her advice to anyone in a similar position is to be relentless in the pursuit of your passions.