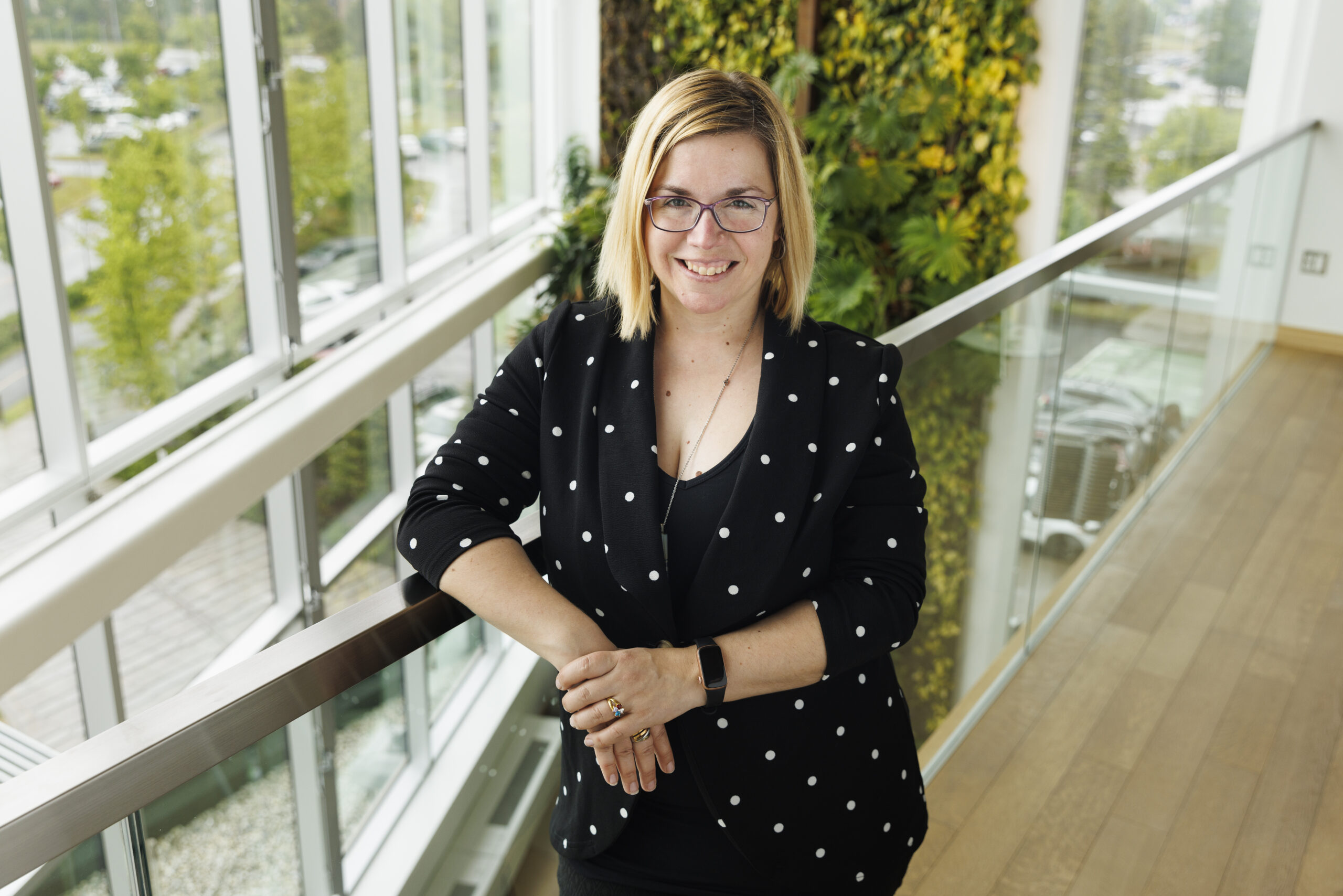 Jannie Thériault, PCP
Technician, Specialized Operations, Desjardins Group, Lévis, QC
Jannie enjoys spending time with her family, her friends and her dog. She loves getting out to appreciate nature. This Rivière-du-Loup native describes herself as a relaxed person who enjoys watching sunsets in her little village on the shores of the Saint Lawrence River.  
Her love for the Quebec City region goes back to her childhood and led her to move there in 2003 to pursue her studies. She was part of the first cohort in the DEC-BAC program. After studying Business Administration at UQAR, she planned to start a career in recruitment. She gained experience in accounting, human resources and payroll, during a four-year stint working at a company specializing in aerial photography and geomatics, but she quickly realized that her real passion was for numbers.  
As she came to the end of her maternity leave in 2013, Jannie realized that with her new family obligations, it was going to be difficult for her to commute between where she worked in Lévis and Quebec City every day. This change in her life led her to seek out a new job, and she secured one as a Payroll Agent at Desjardins. She became a Payroll Processing Technician later in 2013 and remained in that position for eight years. She appreciates the company's culture and values, with their emphasis on people helping one another. In 2018, Jannie's manager encouraged her to earn her designation to further excel her career. As she worked towards her designation, Jannie made sure to balance her work and her family. The next year, she earned her PCP designation and began volunteering for the National Payroll Institute in 2023.  
Today, as a Specialized Operations Technician, she handles year-end activities for Desjardins, including annual tax forms. She says that her role allows her to act in a quality control capacity for payroll issues.  
"A lot of things can happen when you're processing payroll. You have to make sure that all the verifications have been done," she says.  
Jannie also notes the important contributions that computer technology has made to payroll processes. She recalls how in the past, pay slips were printed on carbon paper and payroll was done manually. Nowadays, pay slips are sent by email, and payroll is processed using intuitive software. Jannie recently taught herself how to use Excel macros throughself-guided online resources. She's also interested in the latest developments involving AI applications in her field.  
"Payroll is becoming more and more computerized, but there will always be a need for human beings to validate the data," she says.  
She also notes that payroll professionals need to continually develop their intellectual curiosity while refining their computer skills.  
Her expertise with figures is surprisingly helpful to her family. Since 2021, Jannie has been  helping her partner, who owns a maple farm, with accounting and paying bills, while learning about maple syrup production. By all accounts, it's a pretty sweet arrangement!