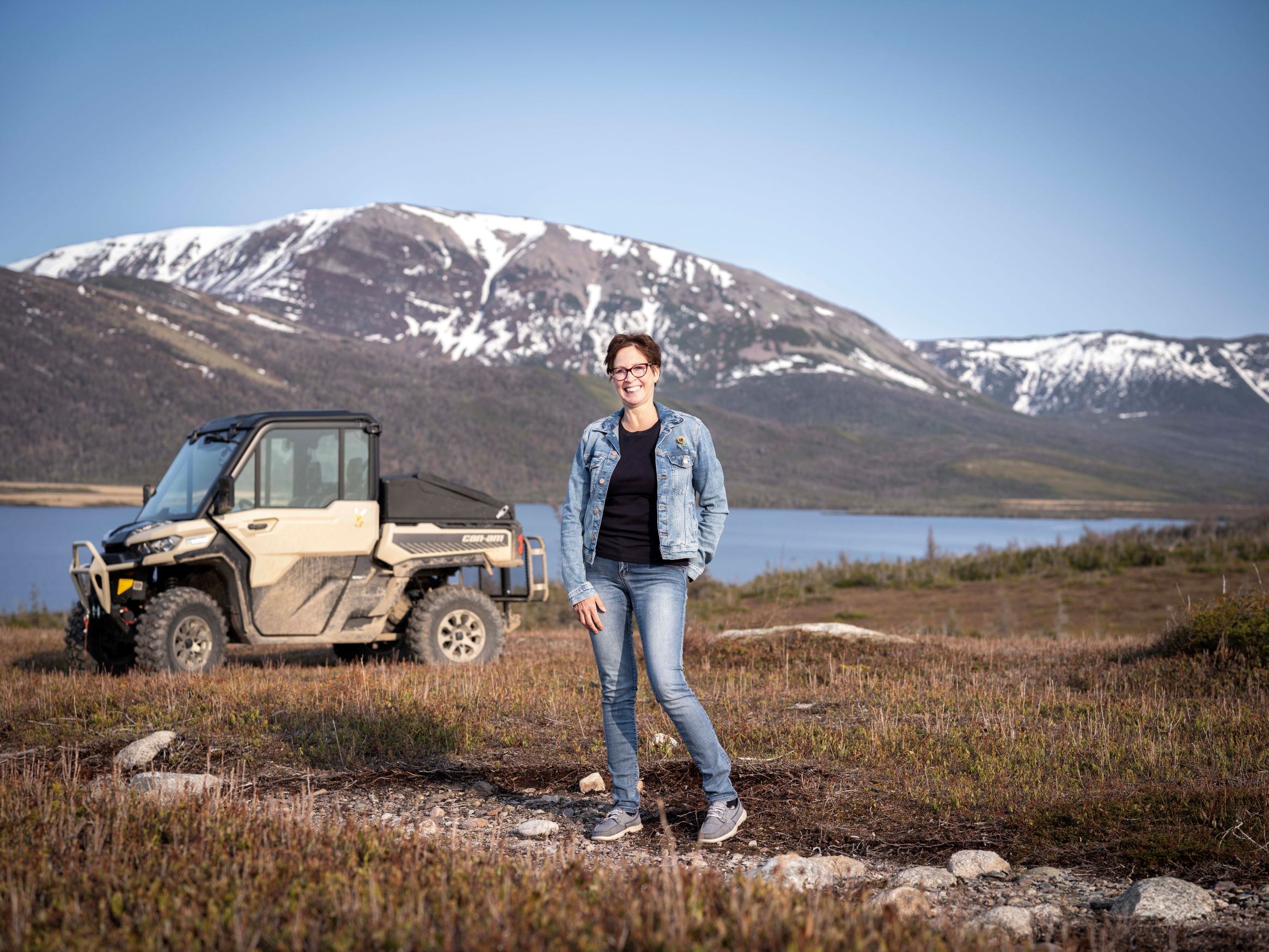 Joyce Smith, PLP
Payroll Manager, Wyndham Hotels & Resorts Canada,
Rocky Harbour, NFLD
Nestled between Bonne Bay and the ancient fjords of Gros Morne National Park on the western edge of Newfoundland is the town of Rocky Harbour. It's the type of place where everyone knows everyone (all 950 residents), the restaurant owner is also the cook, server, bartender, sommelier and host, and neighbours are lifelong friends who treat one another like family. It's also a place that perfectly suits the incredible Joyce Smith, Payroll Manager for Wyndham Hotels & Resorts Canada.   
When she's not managing the Canadian payroll for one of the world's largest hotel franchising companies, Joyce lives for the summer, sun and adventuring throughout western Newfoundland. So, when it was time to be photographed by Christopher Wahl, she decided to give him a taste of what it's like to live in Gros Morne by taking him on an ATV ride beneath the mountains and the endless blue sky reflected in glacial lakes of Gros Morne.   
"This place is magical, and it's home," the trailblazing Smith exclaims. "It's such a gift that, because of technology and the understanding of my employer, I was able to move back home and have been working remotely since 2013 – before the pandemic made the idea of working from anywhere commonplace."   
Joyce began her payroll career in 2000 when she was hired as a Payroll Specialist on a six-month contract while living in New Brunswick. She was obviously a perfect fit for the role because she was promoted to Payroll Supervisor only a few months later, and her manager encouraged her to pursue her PCP designation with the National Payroll Institute. Equipped with that deep and foundational knowledge and empowered by having achieved her designation, Joyce was promoted to her current Manager role in 2006.   
"When I started, we were using Excel and spreadsheets to track hours and earnings, and reconciliations were done manually by checking specific rows, columns and cells," she recalls. "Technology has changed so much since then. Now we use UKG, which has created so many efficiencies and, among other benefits, helped improve our system security."  
One of the most significant changes she has seen in her career is a greater focus among employers on work-life balance, diversity and equity — all of which payroll can contribute significantly through the tracking and analysis of payroll data.   
Looking ahead, Joyce believes that more change is coming for payroll professionals: "ePayroll is going to be a game changer for payroll, so we all need to keep up to date with what the government is doing. And it's great to know that the Institute is at the table representing our interests.  
"Another big change that is happening right now is the shift to remote work, which makes me feel a bit like a pioneer," Joyce continues. "With employees deciding to work for a few months from a different province or country, we (payroll professionals) need to be able to quickly find, interpret and implement the tax requirements of new jurisdictions quickly."  
Rightly proud of her professional accomplishments and how she contributes to her employer's success and the financial wellness of its employees, Joyce truly lights up when talking about her family. At every opportunity, she will tell you about her high school sweetheart turned husband of 33 years, their Goldendoodle Whisky, her 82-year-old mother whom she travels with to see her brother and sister, and her three children — siblings whom she adopted in 2002 when they were 8-years, 3-years and 14-months old and are now grown and thriving.  
In fact, as this interview concluded, she was sure to add parenthetically: "I only wish I could have visited my son when I was in BC for the National Payroll Institute conference before he deployed. He lives in Victoria and is in the Navy and seeing him would have made an unforgettable trip even more perfect!"