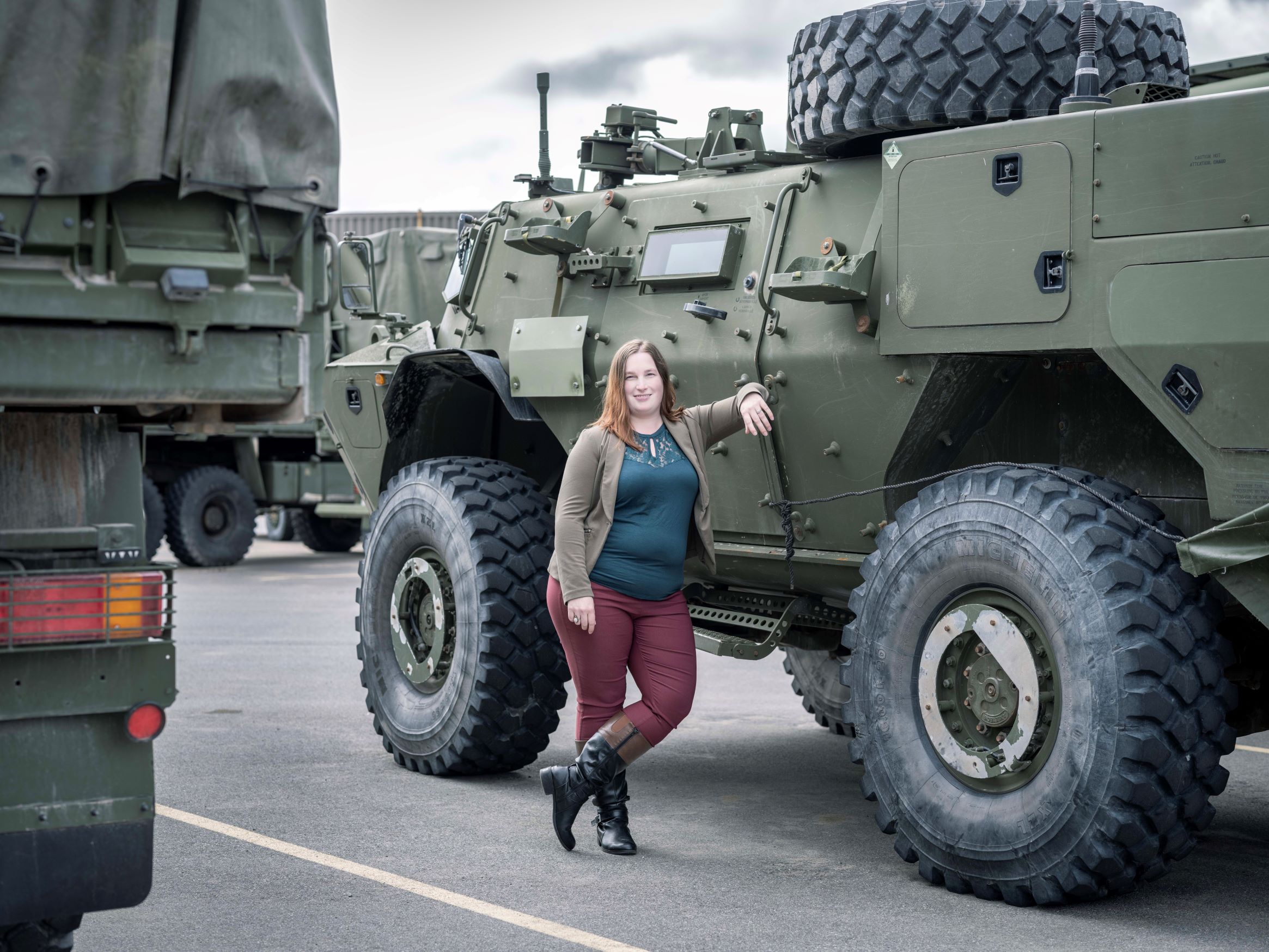 Leanne

Steeves

,

PCP
Human Resources Assistant (

CoE

) – Payroll

, Canadian Forces

Morale

and Welfare Services, Oromocto, NB

 
Leanne Steeves describes her life as an "interesting adventure." And with a husband in the military and years of moving around Canada with her family – it's no wonder why. 
Originally from Manitoba, Leanne currently calls Oromocto, New Brunswick home, where she lives on the Canadian Forces Base (CFB) Gagetown with her husband and her two young sons. Over the years, they've also spent time living in CFB Cold Lake in Alberta, CFB Shilo in Manitoba, as well as a small town in Saskatchewan called Pearson.  
She really enjoys New Brunswick, saying its community-driven philosophy reminds her of where she grew up. She and her family like to take advantage of the greenspace around them by going fishing and camping, which she notes her little ones are professionals at.  
When it comes to her career, she'd also describe that journey as "interesting."  
With a double major in conflict resolution and international development, and a diploma in human resource management, Leanne started her out volunteering at the Canadian Red Cross as a part of the disaster management planning committee. She then transitioned her career over to law, taking a position at a firm in Saskatchewan before accepting a position with the Canadian Forces Morale and Welfare Services (CFMWS) as a Human Resource Assistant.  
At CFMWS, Leanne indirectly worked with payroll, and her manager, noticing her aptitude for it, encouraged her to consider taking on a dedicated role. For years she brushed off the suggestion. While Leanne left CFMWS for a while as she and her husband spent a few years moving around to different postings, they eventually wound up in New Brunswick after a short stay in CFB Shilo, where she once again started with the organization – this time transitioning into a payroll and benefits role. And she's been there ever since, now nearing on 10 years with the organization.  
For her, payroll just clicks, and she feels it was serendipitous to fall into a career where she feels so comfortable in her work. 
"Payroll can be one of those fields that you either can understand it, and it's clear, or it just does not make sense. There seems to be very little room in between," she explains. "But for me, it was always clear, I understood it. I could talk to our national payroll office, take what they were telling me and translate it back to people in more plain language that everyone could understand." 
She says she's found her niche. 
Looking to the future, Leanne sees automation in the payroll profession being a "double-edged sword." She sees a lot of opportunity to streamline various payroll processes, but at the same time, recommends payroll professionals ensure they're not losing their skills by relying too heavily on the systems.  
She encourages people who are interested in going into payroll to maximize their marketability by focusing on both education and experience.  
"It's the old blood, sweat and tears, philosophy. So, get the experience any way you can, even if it means volunteering somewhere," she adds. 
While Leanne recognizes payroll can be a difficult career to get your foot in the door with, she reassures just because something is difficult doesn't mean it's not worth the effort. 
She concludes, "If this is what you want to do, put your all into it, and you will get there."